A user experience designer uses a combination of technical and soft talents to develop user interfaces with straightforward usability. Each project these experts work on requires them to use a range of skills. Success in this position depends on having abilities like user research, data collection, strategy development, and interface design.
But first, what exactly does a UX designer do?
UX designer tasks and responsibilities
Conducting user research
Creating user personas
Create User story
Create user journey maps
Conduct a competitive audit
Determining the information architecture (IA)
Designing user flows and wireframes
Create mockups
Creating prototypes
Conducting user testing
Essential skills for a UX designer
To launch a successful product or service, UX designers need a variety of technical and professional talents (or improve upon an existing product). Even if you're new to UX design, you've probably already established a few of these talents as many of them are transferable from other professions. By concentrating on these crucial abilities, you may start to lay a solid professional foundation.
Workplace skills
Communication Your ability to interview consumers and successfully convey your ideas to customers or management will assist.
Empathy allows you to think about problems and solutions from the user's point of view.
Collaboration skills empower you to work in harmony with your team, taking feedback, exploring solutions, and leveraging expertise.
Critical thinking encourages you to challenge your assumptions and innovate new solutions.
Analysis And Knowing the metrics will help UX designers evaluate their work with objectivity and create data-driven adjustments.
Seek feedback allow enhancing your work by finding areas for development by asking for input and accepting constructive criticism of your work.
Technical skills & Knowledge
Research, making the optimal choices throughout the design process is aided by the use of observation, surveys, and interviews, among other methods.
Information architecture helps you organize and prioritize large and complex sets of information in the screens and interfaces.
Wireframing (building a skeletal framework for a website or app) enables you to explore design solutions in an efficient way and early stages.
Prototyping is essential for testing functionality, allowing the user to imagine the final product and identify problems.
Visual Communication,UX designers must be proficient in visual language because design has a strong graphic component. In order to be proficient in visual communication, one must comprehend ideas like:


Layout
Color
Typography
Icons
Images
Design Theory

Business skills Many UX designers might need to be familiar with business principles like planning and reporting. And they usually needed to pitch their ideas to team members and clients as well.
Basic visual design and coding abilities might help you comprehend how your design fits in with the larger product development process, even though they are not necessary for UX designers.
How To Improve UX Designing Skills
You have a wide range of possibilities if you want to acquire an edge in the UX field.
Think about pursuing a degree online
You can build your career on the foundation provided by online degree programs. Online programs' digital format provides priceless hands-on training. Having qualifications from a higher school program will help you in your job search. However, avoid quick-term initiatives. Although taking a week-long UX course could be interesting, it won't necessarily lay the groundwork for a successful career.
Follow UX Experts
Learn from the experts, by keeping your eyes on top of the publications, blogs, social media postings, and stories of the UX industry giants and the best.
Blogs:
Twitter accounts:
Build a Network
Opportunities for employment and professional advancement might be found by networking with other UX specialists. The professional association for design can provide valuable support and community.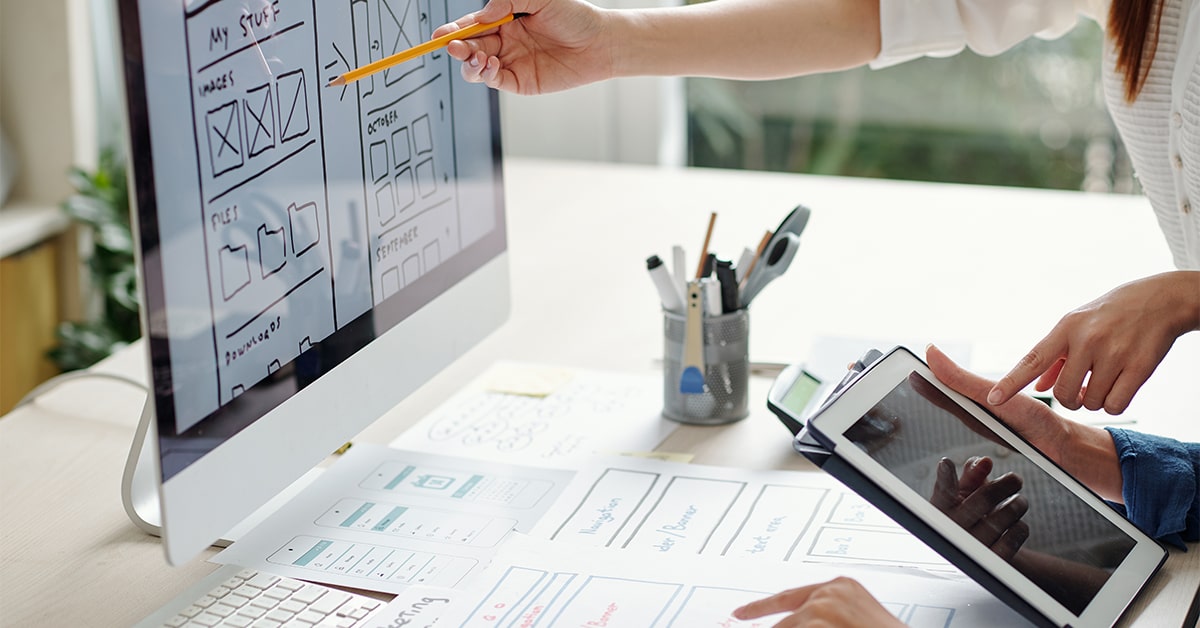 UX and UI designers working on version of website for mobile devices
If you'd like to learn more we can help you understand how you can increase the satisfaction for your customers and clients, contact us here.