Making software simple and easy to use is just one aspect of experience design; other experiences associated with the product, such as the marketing strategy, the packaging, and the post-purchase assistance, are also designed. The primary goal of UX design is to provide solutions that meet needs and pain areas. Nobody will utilize a product that has no utility, after all.
So what is User Experience (UX) Design?
The definition of UX design
I would love to it in the simplest way:
"It's the feeling of the user while experiencing your product!"

Mikdam Qandil
no matter what your product is whether it is an App, Website, Software, or even physical.
It literally constitutes a huge part of all the industries that we live in and use today, from software, websites, food and drink, clothing, transportation, AI & ML, logistics, and many, many more sectors and industries.
And some of the most popular definitions of User Experience from the father and the inventor of the term "User Experience":
"No product is an island. A product is more than the product. It is a cohesive, integrated set of experiences. Think through all of the stages of a product or service – from initial intentions through final reflections, from the first usage to help, service, and maintenance. Make them all work together seamlessly."

Don Norman, inventor of the term "User Experience."

The primary prerequisite for an exceptional user experience is to effortlessly and simply satisfy the customer's needs. Next, grace and simplicity are applied to produce products that are pleasing to own and use. Giving clients what they want or delivering checklist functionality is only a small part of the user experience. The company's services must seamlessly combine expertise from a range of disciplines, including engineering, marketing, visual and industrial design, and design, to provide a high-quality user experience, and interface layout.
With minimal extraneous jargon or images, the story you're presenting about a product should communicate directly to your customers and clients.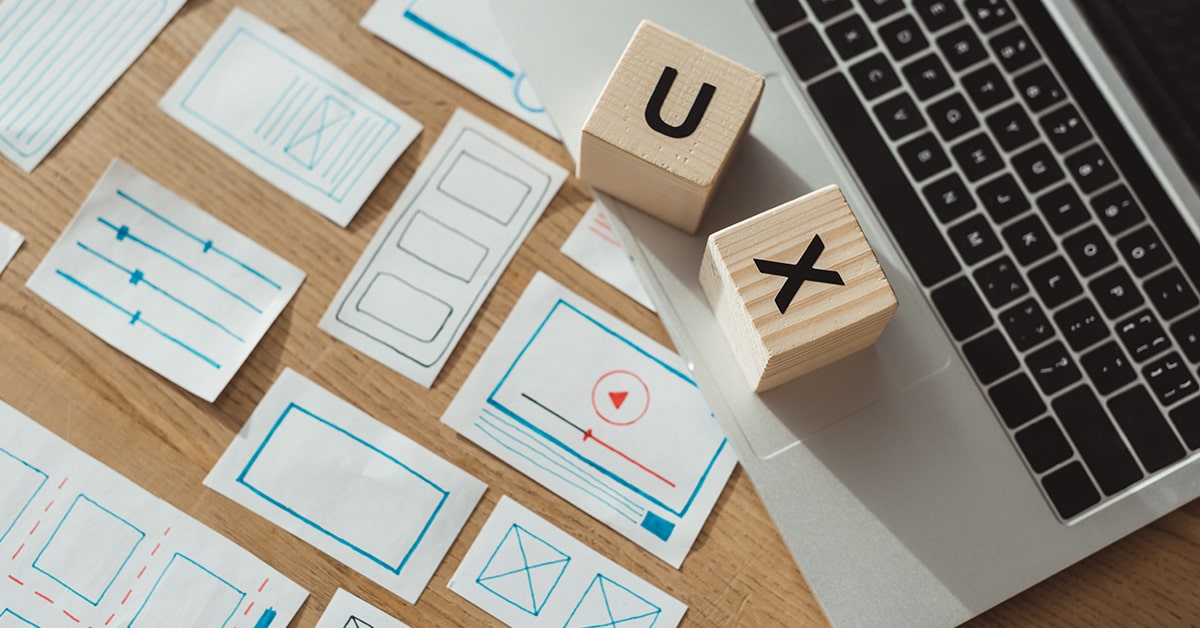 High angle view of cubes with ux letters on laptop with website wireframe sketches on wooden table
If you'd like to learn more we can help you understand how you can increase the satisfaction for your customers and clients, contact us here.